This unit sleeps 6-8 people.

$900 UP TO A WEEK*.
$150 FOR EACH ADDITIONAL DAY.
RESERVATIONS WILL BE RESERVED AFTER CAMPING FEVER RECEIVES THE $500 REFUNDABLE SECURITY DEPOSIT AND COMPLETED CONTRACT FOR SAID DATES.
This unit is equipped with AC, Furnace, Fridge/Freezer, 3 Burner Cook-top, Oven, Bathroom, TV,  Water Heater, Microwave, Outside Kitchen with small dorm fridge, 1 Slide-out, Power Awning.
Bed Sizes: Main bed 74Lx60W, Dinette 80Lx43W, Couch 59Lx42W, Bunks 76Lx49W (300# MAX)
Max pan size for oven 16 wide X 12 Deep X 3 Tall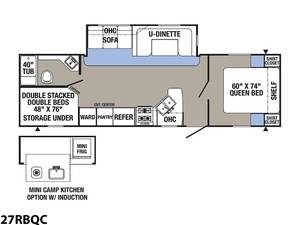 Availability